So it is finally weekend! It was a long week at work for me, quite stressful and not so enjoyable. I was very happy to get it over with!
On Friday night we went to Simon's Coffee House performance. This is an event our local high school holds twice a year where the students/student bands perform their original and cover songs. It is one of my most
favorite school events! I am always so proud to see Simon on stage! This time his band performed a song he wrote that same day. Amazing part is – these kids played it
as if they'd been playing this very song together for years! And this time Simon surprised everybody by playing acoustic guitar (instead of base), and singing!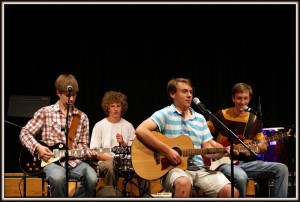 Saturday was my "daily double" day for my exercise – I usually do a 9:00 am power cycling class (alternating instructors every Saturday), take a shower, and then take a yoga class at 10:45 am – all at our local YMCA.
This weekend Robin was teaching the cycling class. I love her class – it is a 45 minute intense workout with a lot of "jumps" where you have to go in and out of the saddle quickly – barely touching when you return into it and jumping right up – all while paddling. She is very funny, too. Quote of the date from Robin: "You could have stayed at home in your PJ pants and with a cup of coffee, but since you're here let's make the best of it!" And we did!
Saturday yoga class was very good, too. My most favorite yoga instructor (Jim) is on vacation for the next 2 weeks, so Fiona was subbing for him. I used to go to her class all the time, but since I starting cycling it doesn't fit into my schedule any more. It was very good to be back to Fiona's class on Saturday morning.
After the Y I went grocery shopping, because I wanted to make Sweet Potato Black Bean Quinoa SaladAnne posted a recipe for the other day and I was missing some ingredients.
Well, if you want to get your grocery shopping dome properly and if you are like me – do not go without a shopping list. I ended up with a set of ingredients missing avocado and salsa for this recipe, but I managed and it turned out pretty good! It complemented the sea scallops my husband made for dinner. Here's what I used for the salad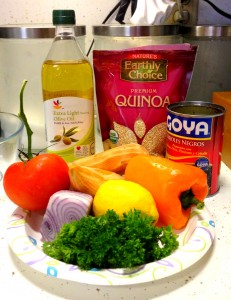 Since I didn't have salsa, I decided to add fresh tomatoes, peppers and purple onion to the salad itself, and make a dressing.
For the dressing I used:
Juice from 1/2 lemon
3 tbs Extra Light Olive Oil
A bunch of fresh parsley
Black pepper and cumin
I mixed it all together before I started on the salad and put it into the fridge.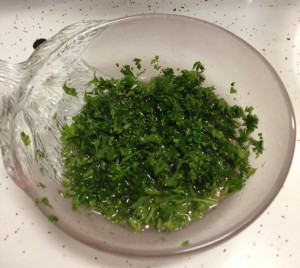 Then I cooked quinoa and mixed all the other ingredients together in a bowl.
After quinoa cooled down, I added it to the salad, added the dressing, tossed it all up, covered with plastic wrap and put it in the fridge for about half an hour. You don't have to do that, I just had time till dinner.
Here's what it looked like when I was done: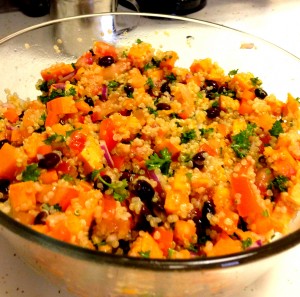 And here is the recipe card I made for it using this cool recipe card making website.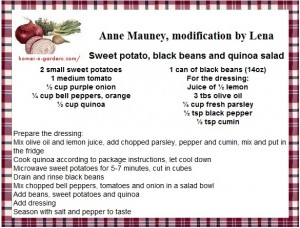 Anne, I hope you don't mind me "playing" with your recipes

I off to my peaceful Sunday yoga class now, and of course I am going to bike to it